Rocky Rodent Ale
May 2002
This This lively amber beer was brewed to honor the majestic Rocky Mountains of Colorado. It was refreshing and tasty, with plenty of Willamette hops. SEE THE COMMERCIAL!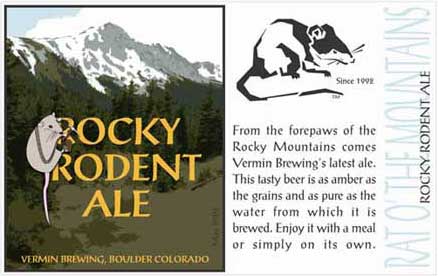 Bubonic Tonic
September 2002
The label of this crisp pale ale reads: Centuries ago, a plague devastated the masses of Europe. Today a new plague sweeps the nation... only this time it is not borne on the backs of fleas but rather in the dark bottles of Vermin Brewing's Bubonic Tonic. With flavorful hops on a background of tasty malt, this golden Pale Ale is sure to delight the palate.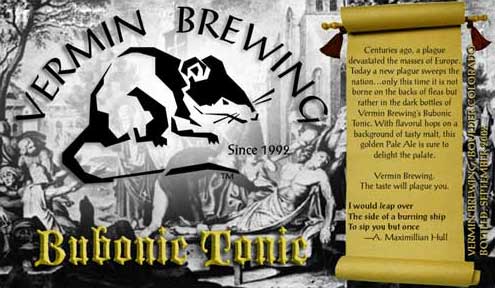 Black Death Dark Halloween Special
October 2002
This porter was brewed in honor of Vermin Brewing's original Black Death Dark. The almost black beer provided tastes of toasted malt and roasted coffee. Simply delicious! Rijkus is the model for the big scary rat on the label, which reads: As all the dark creatures of the night scurry to prepare for that one special eve, so does Vermin Brewing work to complete its latest beer to honor them. Black Death Dark Halloween Special is a dark robust beer, with all the aroma and flavors of a delicious and bewitching brew.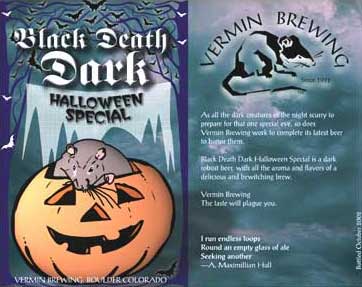 Runa's Winter Warmer
December 2002
This was perhaps Vermin Brewing's best beer yet. The dark red, bittersweet beverage was delicately flavored with the spices of winter... cinnamon, nutmeg, ginger and cloves. It is a great honor to Runa, one of VB's finest mascots ever to snuggle with. SEE THE COMMERCIAL!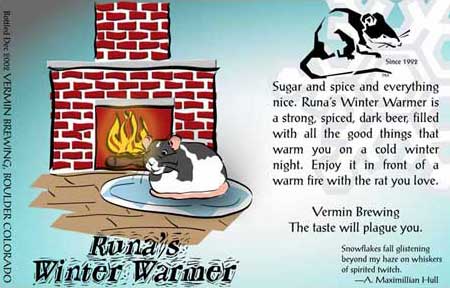 Lab Rat Witbier
June 2003
Just in time for summer, this refreshing cloudy yellow beer was flavored with orange peels, corriander and cumin. Its delicious taste and zesty finish were a great success. Graham is the monster lab rat on the label. To some, this terrifying giant looks as if he is ready to consume the hapless "scientists" below, but actually he's just eating a piece of granola. SEE THE COMMERCIAL!

Wolfram's Courage
August 2003
This was a very drinkable beer. Originally intended to be called "Rogue Rat Red", the beer turned out more golden than red in color. It is slightly ironic that Wolfram is the brazen swashbuckling rat on the label because he was probably the most timid creature on the planet. But after a few beers... who knows? It might just put some fur on his chest. The poem on the side of the label reads:
This tale be true, may I lose me wood leg, one time I found a rat stowed in a keg.
I thought him dead 'til he staggered away and roared out a belch that lingered all day.

Exterminator
December 2003
As Vermin Brewing's first lager beer, this brewed in the age old tradition of the German doppelbok. It was a dark and delicious brew which quickly exterminated all cares or concerns. The large swarm of vermin on the label consist of various shots of Wolfram, Maximillian and Graham.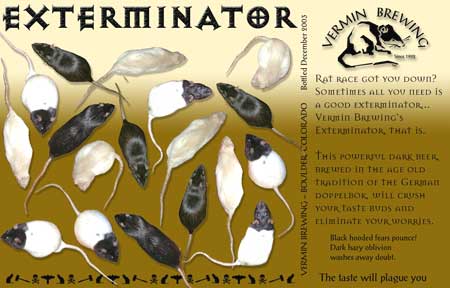 Merry Mascots
February 2004
This highly drinkable beer usied one of Vermin Brewing's standard delicious amber beer recipies. It was technically in honor of Wolfram, Graham and Maximillian having been official mascots for one full year, but it basically extends to all of the Vermin Brewing mascots. The poem reads: Reel, reel the revelrous rat, hops with spirited paws, Why so merry today, my friend? no cares, no reason, just because.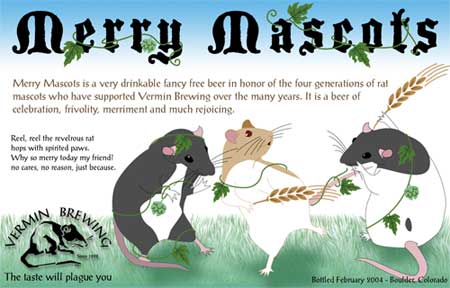 Honey Harvest Ale
October 2004
This wonderful amber beer left a faint taste of honey on the tongue. The wistful looking rat on the label is Maximillian. A haiku written in honor of the beer reads:
Cache of siphoned gold -
each taste a crisp reminder
of cool autumn drafts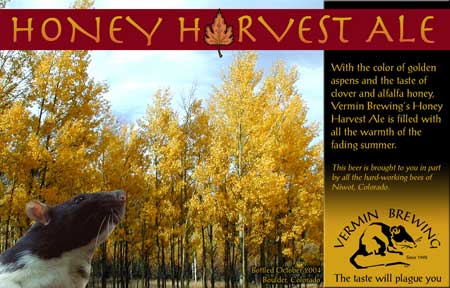 Frosted Snout Cranberry Stout
January 2005
This deliciously warming dark heavy beer had a lingering fruity taste. The snow rat was sculpted from very dry, difficult-to-pack snow and is actually only precariously standing.

Mischief & Mayhem
May 2005
A beer that lived up to its name much more than ever expected as there were countless brewing issues. But in spite of all that, the fruity golden beer keept one coming back for more... and more... and more.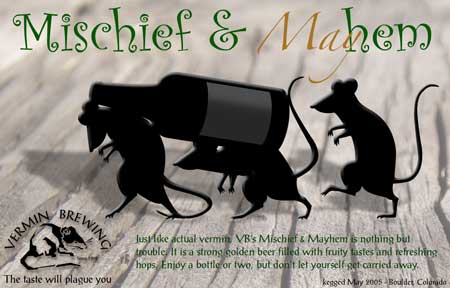 Altimeter
June 2005
The label describes this alt style beer as "a refreshing amber beer with a mild malt and delicate hop that will bring your tastebuds to new heights. Reach the peak of enjoyment." The rat is wearing a specialized, albeit highly impractical, altimeter watch.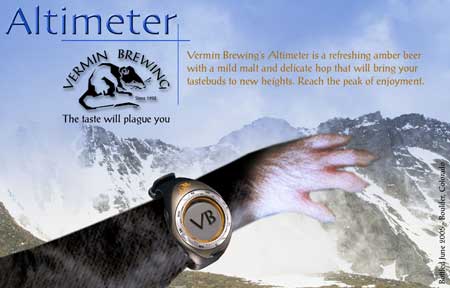 Black and Tan
September 2005
These were actually two separate beers combined into one label. The idea was that when poured together, the black would float on top of the tan due to different densities. Unfortunately this was better in theory than in practice, but they were still two delicious beers.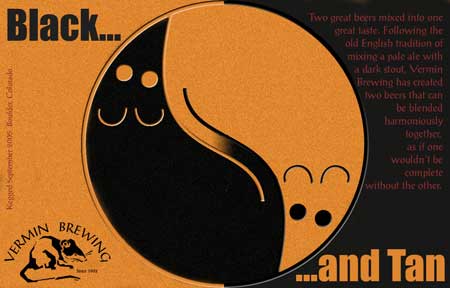 Frosted Snout Cranberry Stout (2)
December 2005
The first version was so good, we just had to brew it again. The beer was brewed using fresh cranberries, giving it a delicious tart aftertaste on a dark beer background. The snow rat was canibalized a short time later by squirrels in search of food.