The Latest Beers

April 2014
White Lavender... if you can imagine a delicious but odd tasting potpourri pillow, you'd be on the right track for this beer. It was a Belgian-style witbier using lavender and orange. Graham enjoys a lovely lavender field.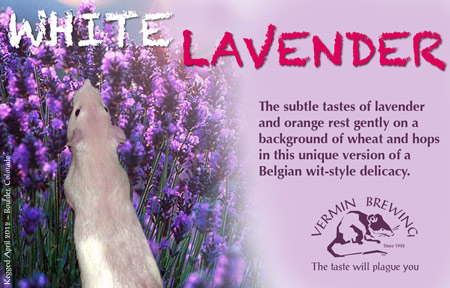 April 2014
After Eight was meant to taste like mint and chocolate. The chocolate part was excellent but the mint got a bit lost. It was still amazingly delicious! The castle is TullyNally (located in Westmeath, Ireland) taken during an antique car show. Tyra is playing the gentleman rodent.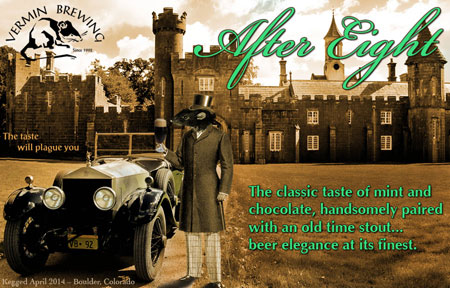 September 2012
Orange Strong was a Belgian-style strong blond ale flavored with hints of orange. It had strength of body and of taste.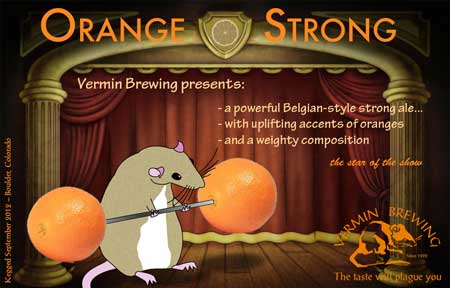 March 2012
20th Anniversary Ale!! 20 years of brewing!! This celebration ale had a lively hop taste on a strong amber malt. Isaac is giving it a taste.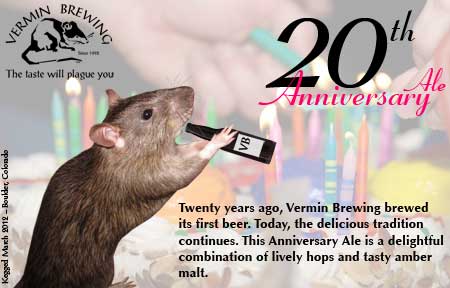 March 2011
Paradise Steam was a strong, blond, lager beer brewed with ale yeast. This style is known as a "steam beer". It had suprisingly delicious fruity flavors.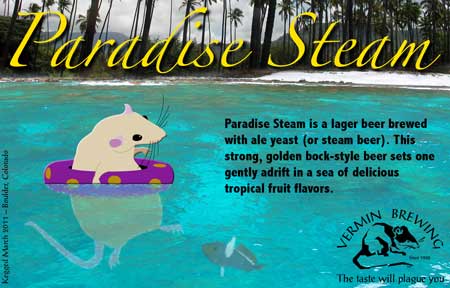 February 2011
Hickory Chicory Doc was a delicious dark porter brewed with chicory. The rat looking wistfully up at the clock is actually named Doc, so it was only natural he be included on this label.

December 2009
Darby's Winter Warmer was a very dark brown beer flavored with pumpkin pie spice. Due to some brewing difficulties, it ended up hoppier than planned, but still quite delicious. Darby, the rat on the label, shows us how one should spend the cold winter days.... curled up in a warm cozy cup.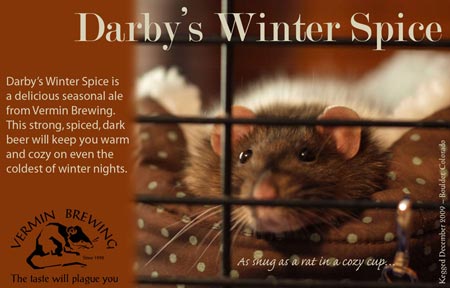 May 2009
Heavenly Wheat was a remarkable imitation of a Germany style wheat beer (or hefeweizen). The angelic rats (with bat wings) are named after two adjacent cities in the Netherlands that just sounded like good rat names. The checkered blue-white background pattern (called Weiss-blau) is very common in Bavaria, the southernmost province in Germany.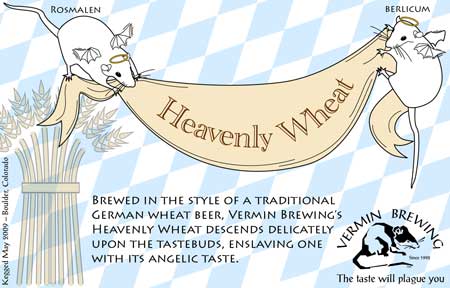 April 2009
Going Nutty was a dry brown ale flavored with hazelnut extract. It started out WAY too nutty but eventually mellowed to a very nice beer. The squirrel thugs are about to hassel Slick. This was his baby picture. He eventually got to the size where he could easily take on a squirrel... or two!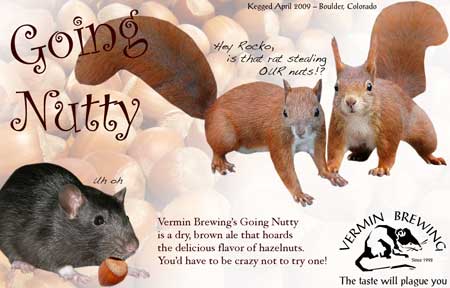 December 2008
Hell Steam was a German Helles style beer brewed as a steam beer (a lager beer made with ale yeast). It had a wonderful fruity taste. The cave and background pictures were both taken in Iceland. The rats peeking out are Pike (left) and Sherman.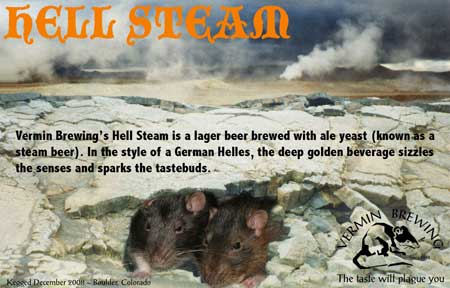 December 2008
Taz's Treat was meant to be a delictable combination of chocolate, vanilla and beer. Basically it turned out as just chocolate. But that's ok, because Taz (the rat on the label) would have still found it delicious had he been allowed to try some.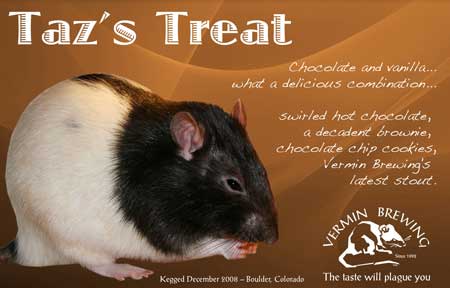 April 2008
Rat de Province was brewed in the style of the old country beers of France, only not quite as strong. The rat on the label is ET, a hairless male rat. He was a guest with Vermin Brewing for a couple weeks and agreed to pose as French rodentia.

April 2008
Wit & Wisdom was a twist on the Belgian-style Wit beer. Instead of traditional corriander, aromatic sage was used. The result was a unique refreshing flavor. The label is a play on words, with "Wit" refering to both the Belgian beer style and the cleverness of the rat (an attribute frequently assigned to the rodent in Eastern cultures), and "Wisdom" which plays on the word 'sage' (which is both the herb and a wise man) as well as as refers to Ganesh, the Hindu god of wisdom. The artwork is hand-painted from India.

November 2007
California Dreamin' reminisces about the founders' days of youth along the California coast. The beer attempted to capture the fresh hoppy taste of the area's typical pale ale. Cooper is technically looking out over the waters of Kauai, but hey, at least it's the same ocean.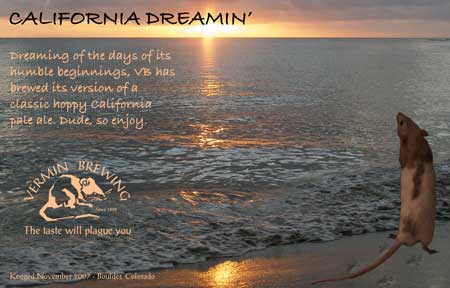 October 2007
Sheridan's Highland Heather used heather tips and sweet gale to recreate the delicious style of beer brewed in the Scottish highlands. The sweet floral beverage is more akin to a cider than a beer. Sheridan, the rat on the label, had both the untamed personality and wild fur appropriate to the Celtic meaning of his name.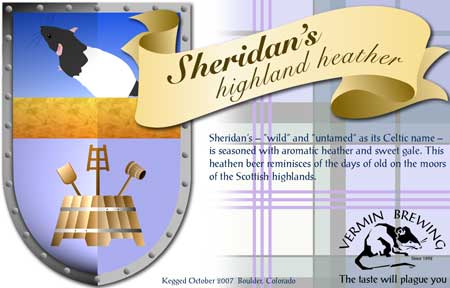 July 2007
40 marked a milestone. While the brewery was only created in 1993, its founders were created long before that. The strong blond beer filled the sinuses and left the lingering taste of honey. The photo on the label is completely computer generated.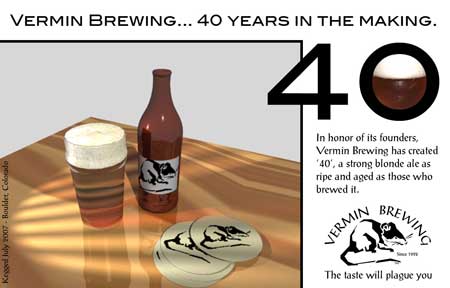 November 2006
Frosted Snout Cranberry Stout (3) was an attempt to win a local "creative stout" contest. It didn't win, but we didn't complain about having to drink the yummy beer ourselves.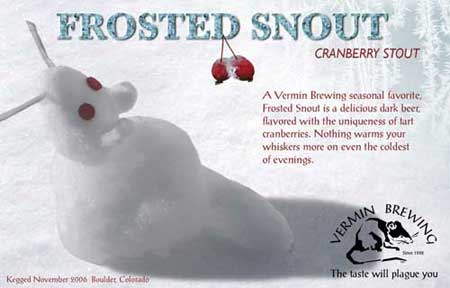 October 2006
The Blue Blur was an amazingly delicious pale beer, delicately flavored with blueberry extract. The taste combinations were beyond words! The beer got its name from Meeker (aka Blue), the small bluish-tinted rat who would zip around the room with lightning speed.

September 2006
Princeton's Pride was brew an amber beer that slowly really grew on you... just like the big rat himself. He's shown here on the trail up to the peak with his same name, but in reality he'd probably have a heart attack if he ever had to set paw outside.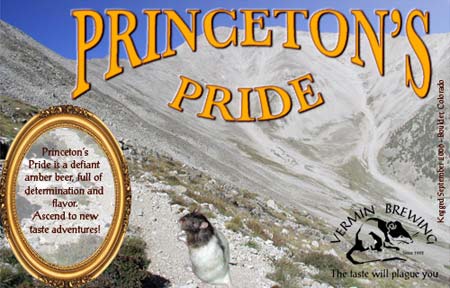 December 2005
Frosted Snout Cranberry Stout (2) was brewed using fresh cranberries, giving it a delicious tart aftertaste on a dark beer background. The first version was so good, we just had to brew it again. The snow rat was canibalized a short time later by squirrels in search of food.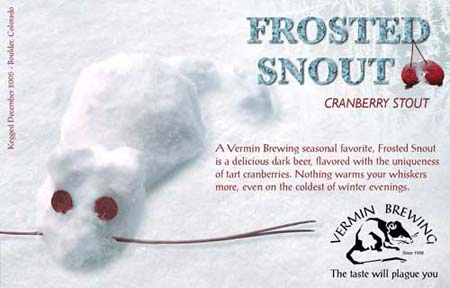 September 2005
Black and Tan was actually two separate beers combined into one label. The idea was that when poured together, the black would float on top of the tan. Unfortunately this was better in theory than in practice, but they were still two delicious beers.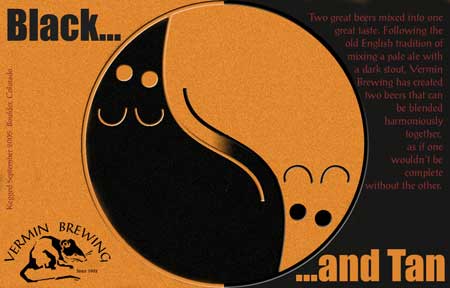 June 2005
Altimeter, as the label reads, "is a refreshing amber beer with a mild malt and delicate hop that will bring your tastebuds to new heights. Reach the peak of enjoyment." The rat is wearing a specialized, albeit impractical, altimeter watch.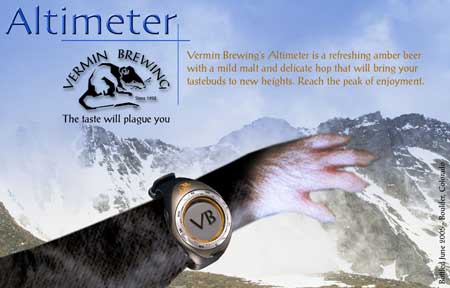 May 2005
Mischief & Mayhem lived up to its name much more than ever expected. There were countless brewing "issues", but in spite of all that, the fruity golden beer keept one coming back for more... and more... and more.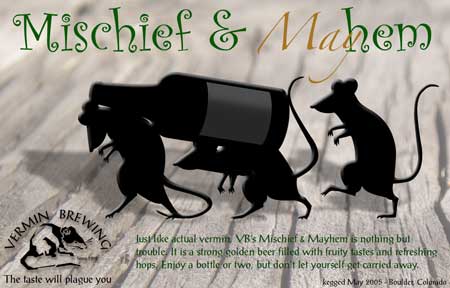 January 2005
Frosted Snout Cranberry Stout was a deliciously warming dark heavy beer with a lingering fruity taste. The snow rat was sculpted from very dry, difficult-to-pack snow and is actually only precariously standing.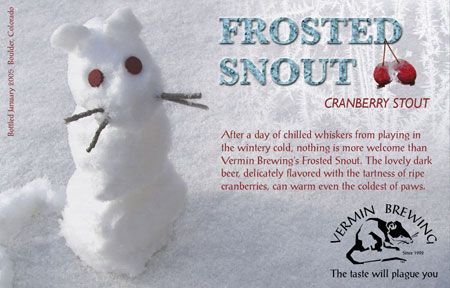 October 2004
Honey Harvest Ale was a wonderful amber beer which left a faint taste of honey on the tongue. The wistful looking rat on the label is Maximillian. A haiku written in honor of the beer reads:
Cache of siphoned gold -
each taste a crisp reminder
of cool autumn drafts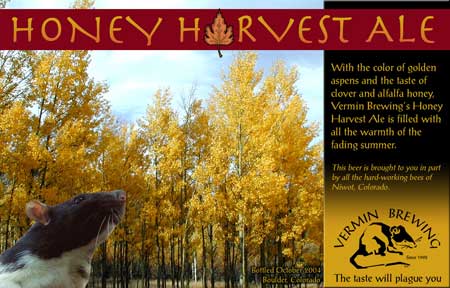 February 2004
Merry Mascots was a highly drinkable beer using one of Vermin Brewing's standard delicious amber beer recipies. It was technically in honor of Wolfram, Graham and Maximillian having been official mascots for one full year, but it basically extends to all of the Vermin Brewing mascots. The poem reads: Reel, reel the revelrous rat, hops with spirited paws, Why so merry today, my friend? no cares, no reason, just because.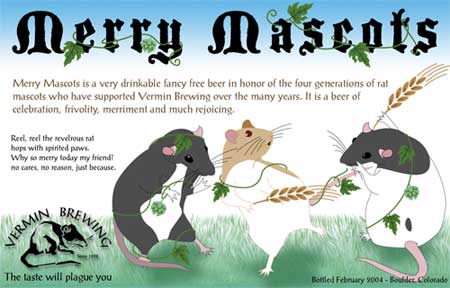 December 2003
Exterminator was Vermin Brewing's first lager beer, brewed in the age old tradition of the German doppelbok. It was a dark and delicious brew which quickly exterminated all cares or concerns. The large swarm of vermin on the label consist of various shots of Wolfram, Maximillian and Graham.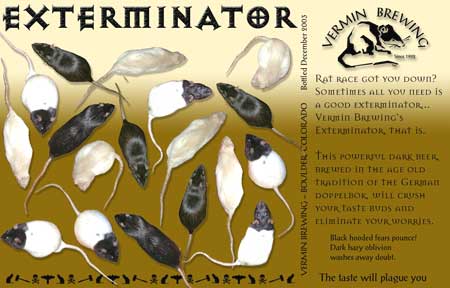 August 2003
Wolfram's Courage was a very drinkable beer. Originally intended to be called "Rogue Rat Red", the beer turned out more golden than red in color. It is slightly ironic that Wolfram is the brazen swashbuckling rat on the label because he is probably the most timid creature on the planet. But after a few beers... who knows? It might just put some fur on his chest. The text on the side of the label is written by "Keel" Hull and reads:
This tale be true, may I lose me wood leg, one time I found a rat stowed in a keg.
I thought him dead 'til he staggered away and roared out a belch that lingered all day.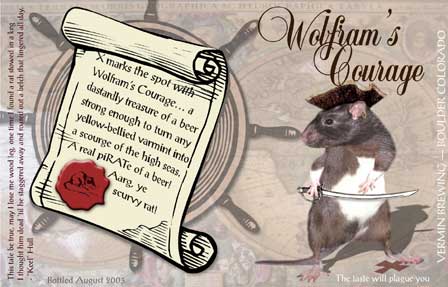 June 2003
Lab Rat Witbier was just in time for summer. This refreshing cloudy yellow beer was flavored with orange peels, corriander and cumin. Its delicious taste and zesty finish were a great success. Graham is the monster lab rat on the label. To some, this terrifying giant looks as if he is ready to consume the hapless "scientists" below, but actually he's just eating a piece of granola. SEE THE COMMERCIAL!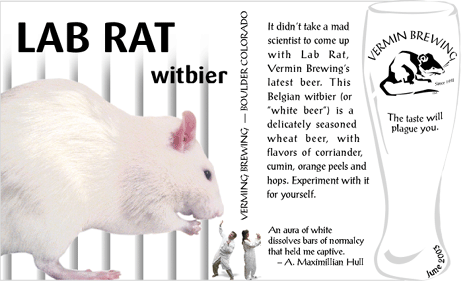 December 2002
Runa's Winter Warmer was perhaps Vermin Brewing's best beer yet. This dark red, bittersweet beer was delicately flavored with the spices of winter... cinnamon, nutmeg, ginger and cloves. It is a great honor to Runa, one of Vermin Brewing's finest mascots ever to snuggle with. SEE THE COMMERCIAL!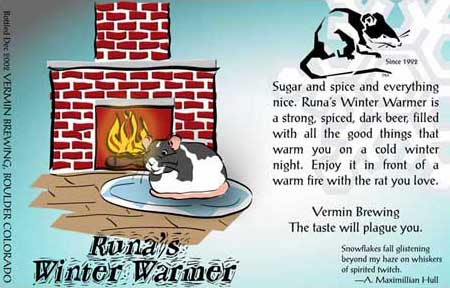 October 2002
Black Death Dark Halloween Special was a porter brewed to honor Vermin Brewing's previous beers. The almost black beer provided tastes of toasted malt and roasted coffee. Simply delicious! Rijkus is the big scary rat on the label, which reads: As all the dark creatures of the night scurry to prepare for that one special eve, so does Vermin Brewing work to complete its latest beer to honor them. Black Death Dark Halloween Special is a dark robust beer, with all the aroma and flavors of a delicious and bewitching brew.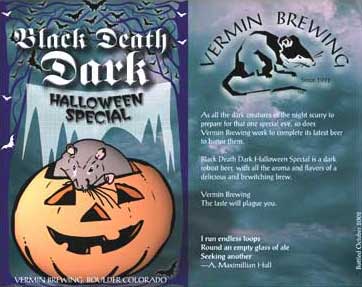 September 2002
Bubonic Tonic was a crisp pale ale. The label reads: Centuries ago, a plague devastated the masses of Europe. Today a new plague sweeps the nation... only this time it is not borne on the backs of fleas but rather in the dark bottles of Vermin Brewing's Bubonic Tonic. With flavorful hops on a background of tasty malt, this golden Pale Ale is sure to delight the palate.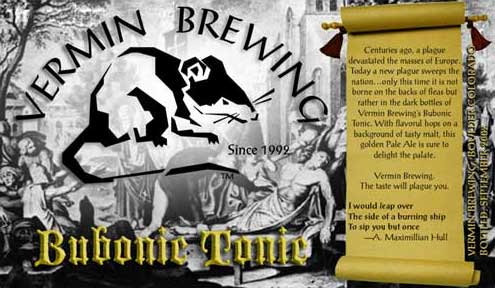 May 2002
Rocky Rodent Ale was brewed to honor the majestic Rocky Mountains of Colorado. This lively amber beer was refreshing and tasty, with plenty of Willamette hops. SEE THE COMMERCIAL!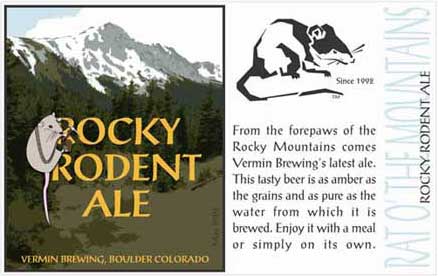 February 2002
WanderRat Anniversary Ale was a celebration of Vermin Brewing's return to brewing after almost 10 years of wandering the globe tasting a wide assortment of beers. This pretty amber beer was malty with a fine hoppy finish.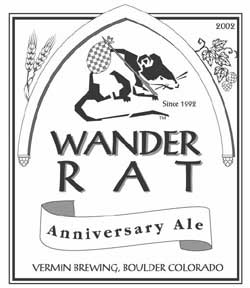 vbteam@verminbrewing.com
2010