THE GLASS COLLECTION
Intro • Germany • Netherlands • Belgium • USA • Others
Glasses from the rest of the world
in no particular order
Mitchell's glasses
South Africa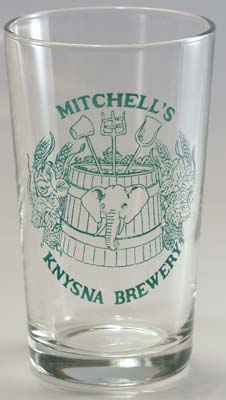 While touring the Republic of South Africa in search of new beer, the VB Team managed to take a wonderful tour of the Mitchell's Knysna Brewery brewing facilities. At the end of the tour was a free tasting of the four different beers after which the small tasting glass could be taken home as a souvenir. The sampled beers included the smooth and refreshing Forester's Draught Original, the amber bittersweet 90 Shillings, the dark creamy Raven Stout, and the classic Boson's Bitter.
The picture on the glass is that of the brewery's logo. Along with traditional beer brewing equipment is the image of an elephant's head. This represents the infamous Knysna elephants, local elephants native to this foresty area.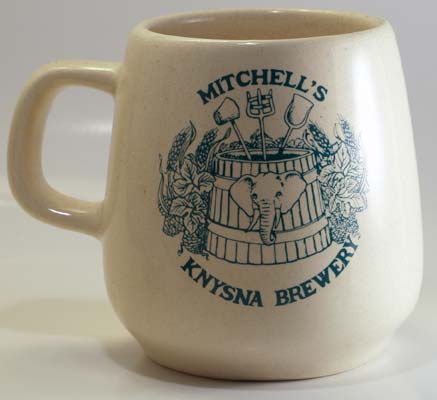 Ceramic mugs are also available from the brewery.
---
Farsons Cisk glasses
Malta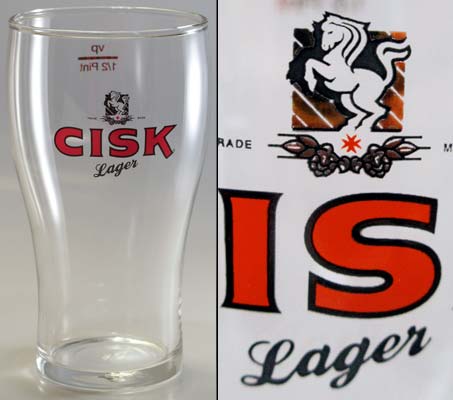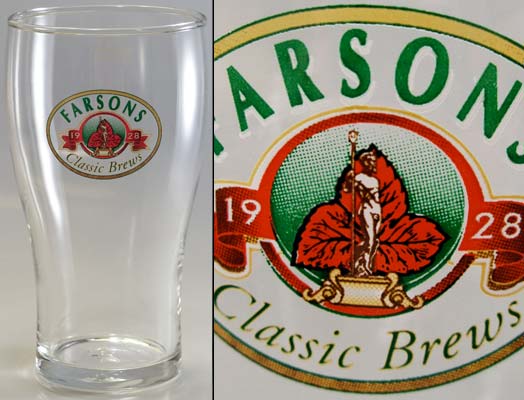 These two glasses both come from the Simonds Farsons Cisk brewery in Birkirkara, Malta. While no tour could be given of the brewery, the staff was generous enough to give the VB team four wonderful half-pint glasses.
The lower glass is meant to hold the brewery's Hopleaf Pale Ale. The image of a man holding a trident is present on several other labels as well. The date of 1928 presumably refers to when the brewery was established.
---
Urquell glass
Czech Republic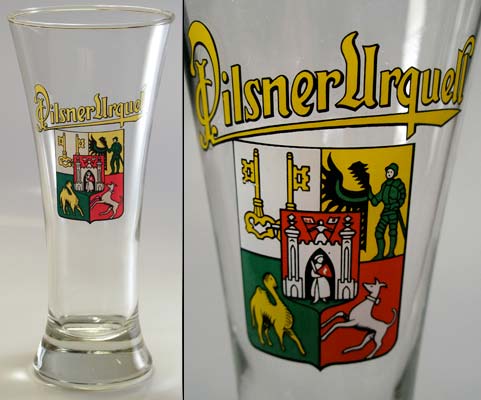 This Pilsner Urquell glass comes from the Czech Republic The sturdy cylindrical glass gets most of its weight from its thick solid base. The large logo on the front of the glass presumably is the city emblem of Plzen (Pilsen) in which the beer is brewed. Pilsener beer originated from this area and thus carries the name of the city. The Pilsner Urquell brewery was founded in 1842 and is located in the province of West Bohemia.
---
Tel-Aviv glass
Israel

This is one of three different souvenir glasses available from the Tel-Aviv BrewHouse in Tel-Aviv, Israel. This 0.2 liter glass has a sleek tapered shape with a delicate gold rim. Its wide foot makes it very stable. The logo on the front is that of the Tel-Aviv BrewHouse, a microbrewery restaurant. One of VB Team members had the opportunity to sample beers in this glass during a visit to the brewery.
---
Murphy's glasses
Ireland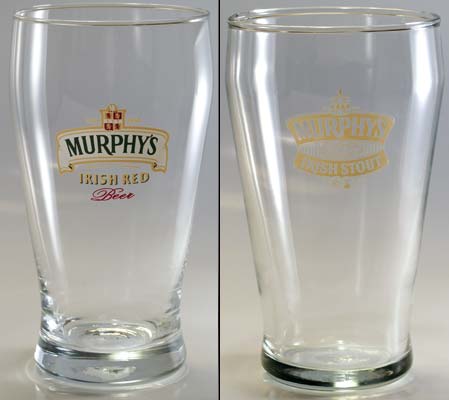 These two stocky glasses from Murphy Breweries in Ireland are meant to hold Murphy's Irish Red Beer and Murphy's Irish Stout, respectively. This comfortable variation of the traditional English pint glass gives one the feeling of holding a lot of beer but without having to deal with a large cumbersome glass.
---
Boot glass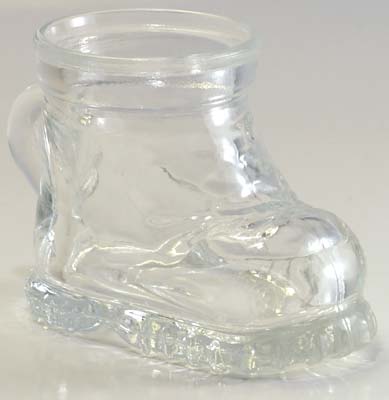 Of unknown orgin, this boot shotglass makes an interesting addition to the collection.
---
Kronenbourg glass
France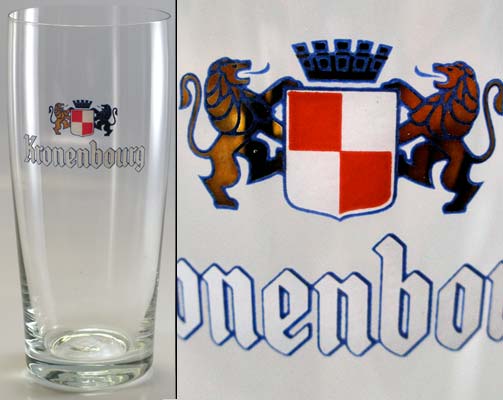 This petite glass holds a delicious premium beer from Brasseries Kronenbourg, located in Strasbourg, France, capital of the Alsace region. It was founded in 1664, seventeen years before the area was annexed by the French. Red and white are the city colors.

vbteam@verminbrewing.com
©2018