Amstel Brouwerij (located in Amsterdam) gives one a chance to enjoy beer the old fashioned way with this traditional ceramic mug. The very lightweight mug makes it difficult to admire the color and head of the beer, but there are no worries of splintering glass during lively toasts.
Amstel didn't forget our rodent friends either, and now any rat can enjoy a beer too with a vermin-sized version of the mug. "Bartender, one for me, and one for my rat!"
---
Giganten glasses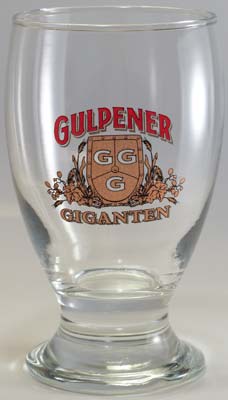 The logo on the glass reads "Gulpener Giganten" (Dutch for "Gulpen Giants") and comes from Gulpener Bierbrouwerij (located in the city of Gulpen) and Grolsche Bierbrouwerijen (in Enschede).
This short sturdy little glass came with a pack of Gulpener Gladiator beer, a very strong (10% alcohol) light colored beer. Its narrow base allows one to get a firm grip on the glass, which is probably needed after one has filled it (and drained it) several times.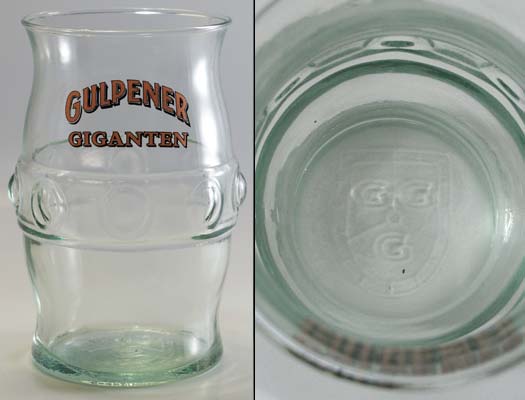 A shield with three "G"s can be found imprinted on the bottom of the glass.
This is the second glass in the Gulpener Giganten series, for the Gallius beer. The glass came packaged in a wonderfully decorated little "stone" box along with a 4-pack of the 8.0% alcohol spiced beer. It has a wide thick base and a thin-rimmed top, but more importantly, it wears a glass belt made to look like thick leather and sturdy brass studs. This is in keeping with the image of the label which depicts a local tribesman of times past, clad in a large bear skin robe - still with head, claws and all.
---
Gulpen Dort glass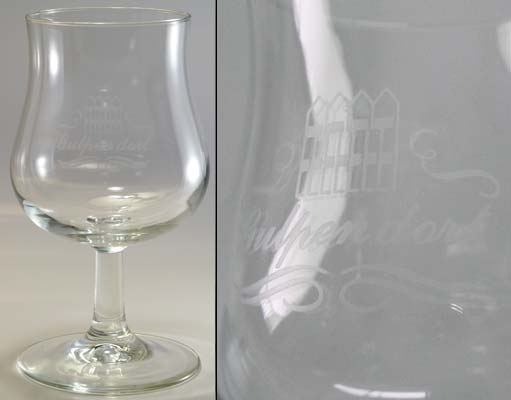 While unfortunately somewhat difficult to see, this glass contains the delicate white words of "Gulpen dort". It is meant for Gulpener Bierbrouwerij's Dortmunder style beer, originally brewed in Dortmund, Germany in 1873.
---
Borculo Brandweer glass

This unique glass, which comes from the Borculo Brandweer (fire brigade) Museum, was generously donated to the team. The topmost symbol depicts the city shield of Borculo, a town located in the province of Gelderland (in the western part of the country). The center picture shows an antique device used for extinguishing fires.
This type of glass is mostly used for beers that go well with meals, such as pilsener style beers.
---
Heineken New Year's glasses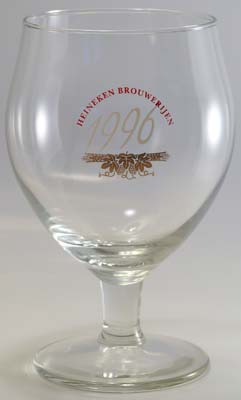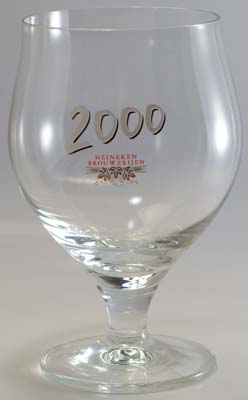 Every year, Heineken Brouwerijen offers a lovely package containing its current New Year's glass and six New Year's beers. The slightly bowl-shaped glass shows off the amber-colored beer quite nicely. The gold drawing of hops and barley is a theme with the New Year's labels as well.
---
Applebee's glass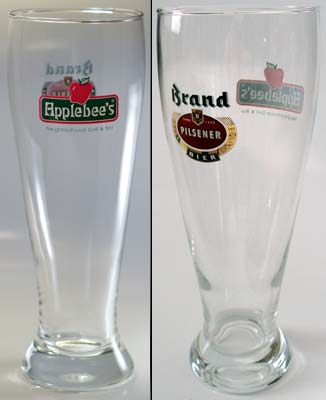 Applebee's Neighborhood Grill & Bar is an American restaurant chain. This glass comes from their branch in Heerlen (located in the southernmost province of Limburg). The large bright red apple logo proudly decorates this tall sleek glass. The glass has a broad top and a tapered base. It is surprisingly light in spite of its size and rather thick foot. The logo on the back of the glass is from Brand Bierbrouwerij, located in Wijlre also in Limburg.
---
Brand glass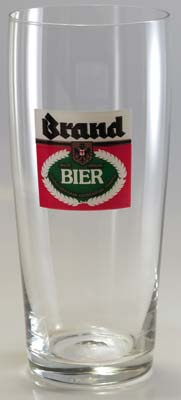 Here we see the Brand Bierbrouwerij logo again, this time on its own tiny delicate glass. The brewery was founded in 1871 but has been owned by Heineken 1989.
---
Grolsch 100 year celebration glasses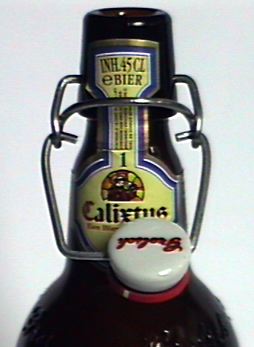 Grolsch Bierbrouwerijen produced six wonderful beers, all with matching glasses, to celebrate exactly 100 years since their invention of the swingtop-bottle (called the 'beugelfles' in Dutch), a unique ceramic top sealing system.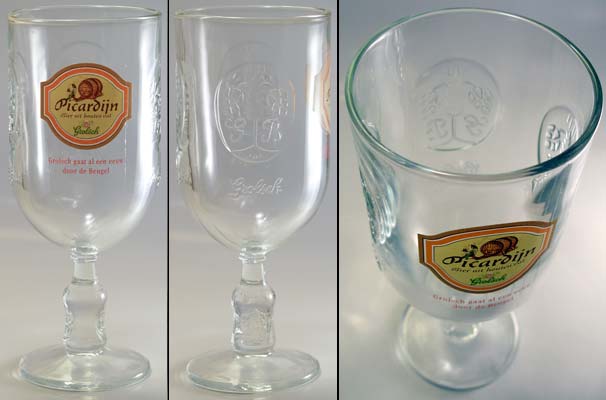 Each glass proudly displays its beer label in the center. Carved into the sides of the glass are the brewery symbols. The sharp angular cuts bring out the beautiful color of the beers.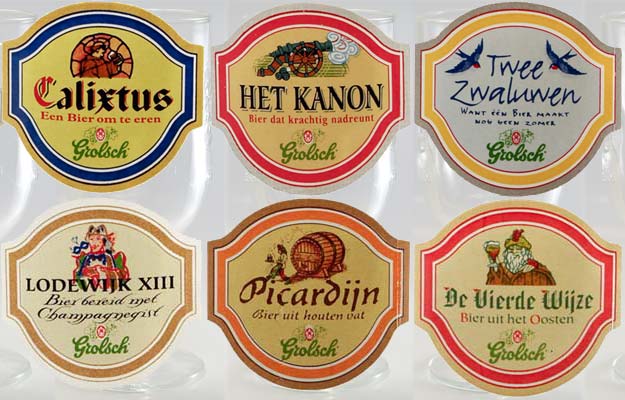 Calixtus ("a beer to honor") was named after the protector of the city of Groenlo (one of the locations of the Grolsch brewery). It was a lovely deep amber cinnamon beer.
Het Kanon ("beer that powerfully rumbles") was a strong 11.6% golden beer.
Twee Zwaluwen (or Two Swallows, "one beer does not a summer make") was a dainty spiced beer.
Lodewijk XIII ("beer made with champagne yeast") is a strong fruity dry beer. Louis XIII is the name of an exclusive cognac manufactured using grapes from Champagne, France. Louis XIII was also a king of France, giving this beer a regal air.
Picardijn ("bier from a wooden vat") was a deep golden beer.
De Vierde Wijze (or The Fourth Wiseman, "beer from the East") was a fruity dark orange beer. If there had been a fourth wiseman, this is clearly what he would have brought.
---
Geesink glass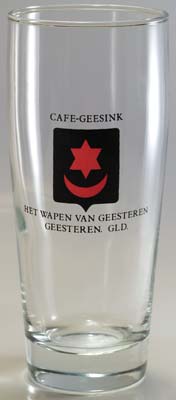 This rare glass comes from Café Geesink, a local café in the tiny village of Geesteren in the province of Gelderland. The delicate small glass features the symbol of the city, and is typical of Dutch pilsner glasses. It holds 33 cl.
---
Hertog Jan glasses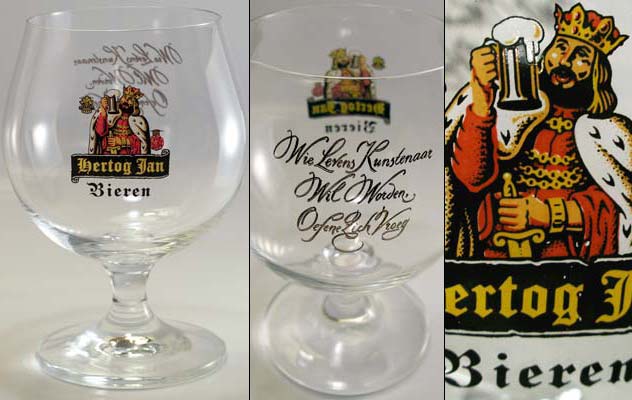 Originally Hertog Jan was just a brand, owned by distributor De Kikvorsch and brewed by Arcense Stoombierbrouwerij. It is now part of the big Interbrew conglomerate but has its own brewery name, Hertog Jan Brouwerij..
This ample-sized, nicely-shaped tasting glass came packaged with six different Hertog Jan beers. The tasting pack ranged from their standard pils to their special "Grand Prestige" (a barley wine style beer with an alcohol content of 10%). Also included was a small booklet to inform the taster what to look for in the color, smell and taste of each different beer. Very well done!
The front of the glass depicts the logo of the Hertog Jan beers; it is the the image of Hertog Jan (or Duke Jan) himself, claimed by some to be the real life inspiration for the mysterious patron saint of beer, Gambrinus. To demonstrate his love of beer, he is shown here holding a large frothy mug of the tasty liquid and is surrounded by typical brewing symbols. The back inscription reads in Dutch "Wie Levens Kunstenaar Wil Worden, Oefene Zich Vroeg" or "Whoever wishes to become an artist of life, practices early".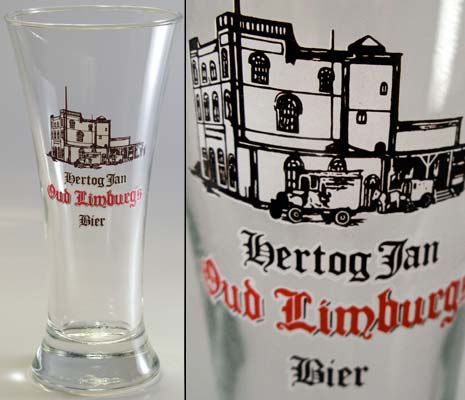 Here we see the Hertog Jan name again, this time on a glass meant for Oud Limburgs, a top-fermented beer. The picture in the background is of the Arcense Stoombierbrouwerij (steam beer brewery) in Arcen.
---
Hard Rock glass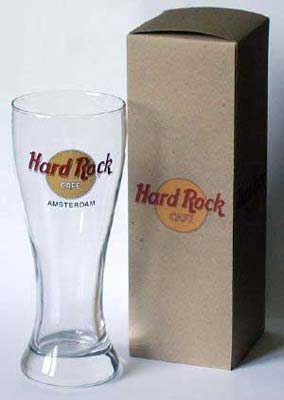 The Hard Rock Cafe is a chain of restaurants that dot the globe. This glass comes from the one in Amsterdam. The tall large glass doesn't seem specially designed for any beer in particular, and the restaurant allows one to have it filled with the beer of one's choice. The Vermin Brewing team decided to have it filled with Vos, a tasty Dutch amber beer brewed by Brouwerij de Ridder in Maastricht.
---
Grolsche series glasses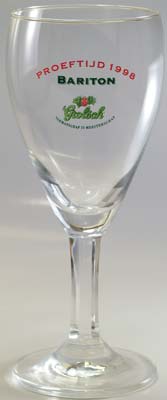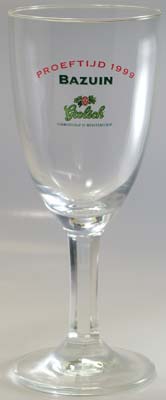 Grolsche Bierbrouwerijen (located in Enschede) seems to enjoy making a wide variety of "series beers", each with its own special glass. They give us now Bariton and Baziun. The tall glasses have a rather thick block stem with an extra wide base. The words on the glass include "Proeftijd 1998/1999" (Dutch for "tasting season 1998/1999") and the Grolsch brewery logo with its slogan "Vakmanschap is meesterschap" (or "Craftmanship is a masterwork").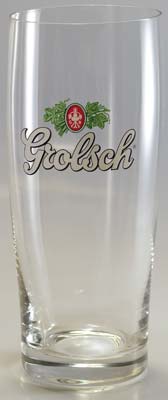 Along with all of its lovely and amazing series glasses, Grolsche Bierbrouwerijen also makes a tiny delicate pilsner glass.
---
Budels glass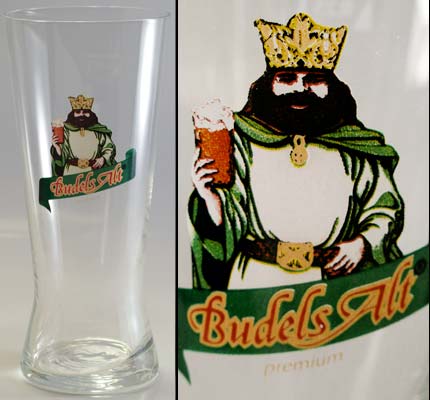 Budels Alt glass is a 0.25 liter glass with a wide, thin rimmed top and a thick narrow foot. A slight indent near the bottom of the glass allows it to fit comfortably and snuggly in one's hand which comes in handy when drinking the 6.0% alcohol beer brewed by Budelse Brouwerij in Budel. The image on the glass is the same as that on the beer bottle and is of a large well-dressed man, presumably a king or maybe the ledgendary patron of beer Gambrinus, proudly holding a large glass of foamy beer.
---
Dommelsch glasses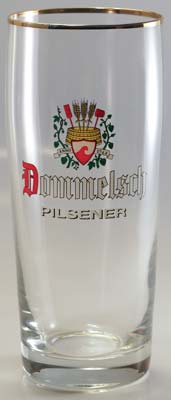 Dommelsch Bierbrouwerij is located in Dommelen, not too far from former VB headquarters. Presumably the logo has to do with the emblem of the city.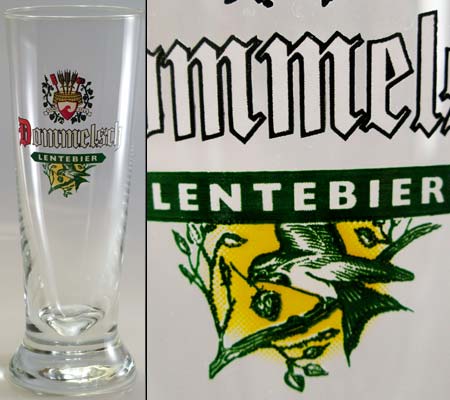 The brewery also offers a Lentebier ("spring beer") glass. Decorated with the brewery logo and a pretty-colored swallow sitting on a branch, this was one of the few glasses actually purchased by the VB team. It came beautifully wrapped: resting in a traditional hand-carved wooden clog filled with hay, nestled next to its namesake beer, and covered with plastic and colored ribbons. This special beer is available only during the spring months.
---
Heineken glasses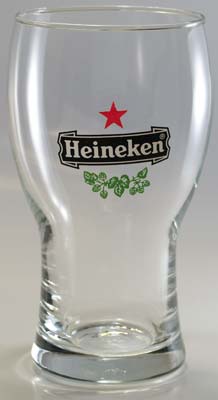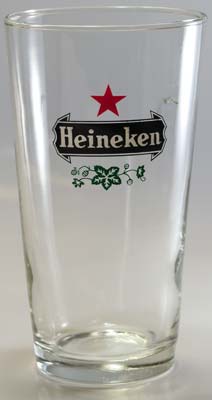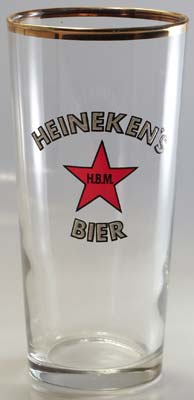 Heineken Brouwerijen is one of the most famous of all the Dutch breweries. It has several brewing locations around the small country, including Amsterdam, Zoeterwoude and 'S-Hertogenbosch. It produces many different styles of beer and many different glasses, all identified with the famous red star logo. The gold-rimmed glass on the far right was part of a celebration package.
---
La Trappe glasses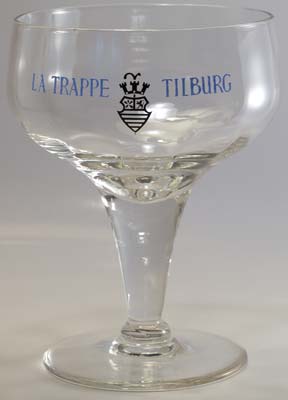 The La Trappe beers are a series of extremely delicious beers ranging from 5.5% to 10% alcohol. They are produced by one of the few remaining Trappist breweries left in the world, Trappistenbrouwerij De Schaapskooi, in the city Berkel-Enschot located very close to Tilburg.

The brewery also makes a special shotglass for it amazing 30% beer liquor. This glass carries the image of the monestary itself, Abdij O.L.V. Koningshoeven.
---
Raaf glass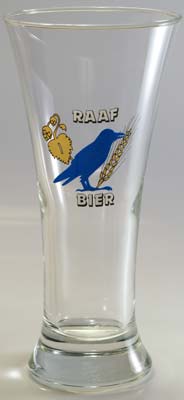 Raaf is the Dutch word for Raven. This slender yet sturdy glass is meant to hold the brewery's Witte Raaf (white raven), a spiced wheat beer that smelled and tasted of fragrant flower petals.
Brouwerij Raaf in Heumen was once the fourth largest producer of this beer style in The Netherlands, but it was sold in 1991.
---
Leeuw glass
Leeuw means lion in Dutch, as the small emblem shows. The brewery makes a wide variety of beer types, but this glass is probably meant for one of its special beers.
Bierbrouwerij de Leeuw is located in the beautiful city of Valkenburg in the southernmost province of Limburg. It was founded in 1886 and received it current name in 1920.
---
PINT glasses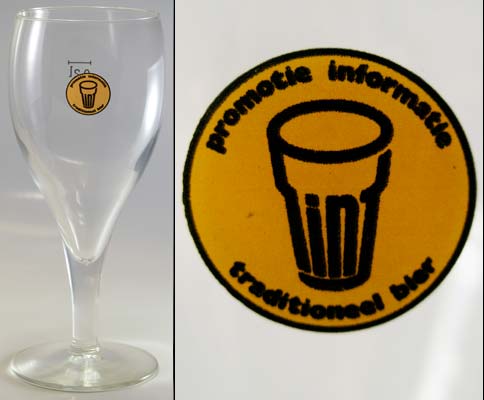 PINT (which stands for "Promotie INfomatie Traditioneel bier") is a Dutch beer club. They provide a wide variety of information and events for both members and non-members. The picture on the glass is the PINT logo, which has the letters "Pint" forming the shape of a traditional British style pint beer glass (the word pint refers to the size).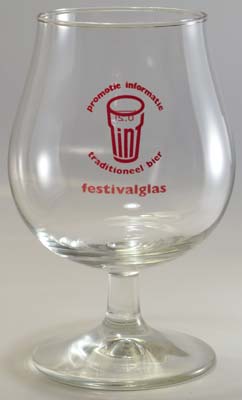 Seen here is a tasting glass designed to serve a 0.2 liter beer for all styles of beer. This one was obtained at a PINT festival in Arcen.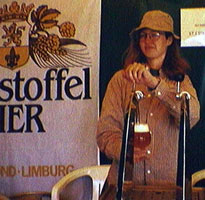 The VB team reaped the rewards of being members by receiving a free beer at various events, as well as being able to tap several beers themselves (into this very glass).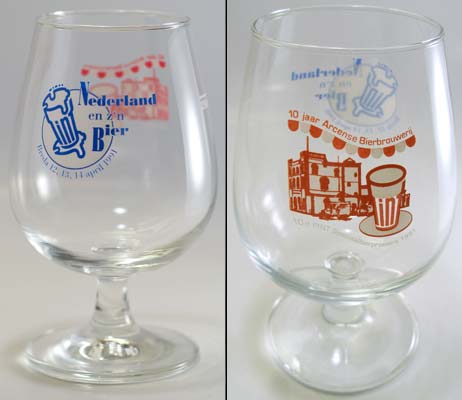 Here we have yet another PINT festival glass at Arcen.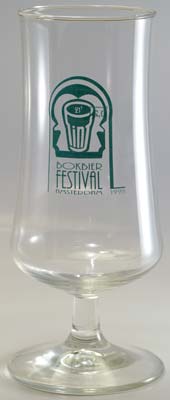 This PINT tasting glass came from the 21st Bokbier Festival in Amsterdam in 1998. Beer taps lined both sides of giant hall, and some 50 different bock-style beers were there for the tasting. The participating Dutch breweries ranged in size from the world-famous Heineken to the few months old Huisbrouwerij De Heeren van Beeck.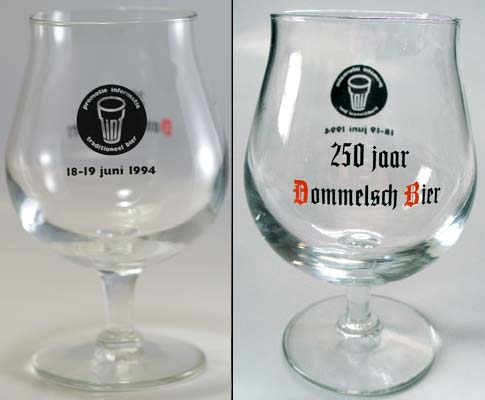 This glass came from a very small event in a local pub in the city of Dommelen.
---
Drie Ringen glass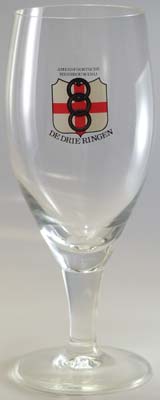 The three rings on this glass represents the name of the brewery, Amersfoortsche Bierbrouwerij De Drie Ringen, which is located in the city of Amersfoort. There has been a brewery with this name since the 17th century, but this current one opened in 1990.
---
Zomer Goud glass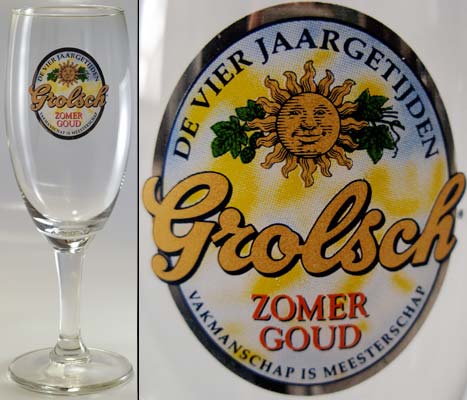 This glass is part of yet another series produced by Grolsche Bierbrouwerijen. It is their Summer Gold beer, complete with smiling sun. They also make a winter, spring and fall beer as well.
---
Kylian glass
This lovely bowl glass was made for Heineken Brouwerijen's special Kylian beer. This 6.5% Irish style ale had a strong malty taste.
---
Dutch glasses

This small glass simply says "Kleintje Pils", or a small pilsner.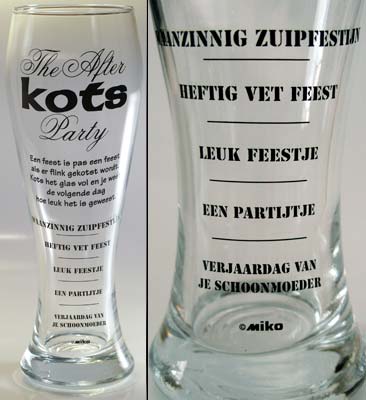 This glass can best be attributed to the unique Dutch sense of humor. It roughly translates as:
The After Vomit Party
A party is only a party
when there is lots of vomitting.
Vomit in this glass and then you know
the following day
how much fun it was.
Amazing drinking party
Totally cool party
Nice party
A small gathering
Birthday party for your mother-in-law

vbteam@verminbrewing.com
©2018