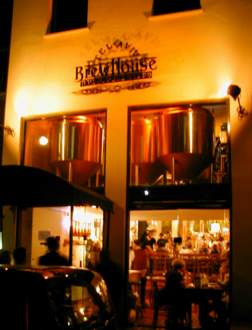 Beer was probably invented not far away from the Tel Aviv Brewhouse in Israel. It is in this part of the world that Sumarians first started soaking bread in water and letting it ferment from wild yeast to make a cloudy liquid that was the origin of beer. For most modern drinkers though, that original ale might not be too appetizing. Fortunately for them, the Tel Aviv brewhouse, the only microbrewery in Israel, doesn't follow the thousand year old tradition that imbues this land.
Beer isn't particularly popular in Israel and two local beers, Macabee and Goldstar, dominate the market (both are made by Tempo Beer Industries) which they share only with a few imports like Heineken and Carlsberg. Still, the Tel Aviv brewhouse was a hopping place with standing room only in the bar and a short wait for the seating in the dining area. Dinner seats are available on the mezzanine floor just next to the fermenting tanks seen in the picture taken from the street. The live jazz band downstairs (Jazz, Dixie, Swing and Blues every Sunday and Friday) is a pleasant background to beer and meal. A set of taster glasses weren't available, but with only a few beers on tap and 20 cl glasses anyone but the designated driver should be able to try all three.
Each of the beers is non-pasteurized and brewed "on-site according to a 150-year old European recipe." The first, a dry, almost watery pilsner beer is Quantum Special. This light golden beer is easy to drink and likely meant for the mass consumer. The taste is attenuated with a dry sharp hop. Moonshine Premium Lager is fuller tasting and a bit darker in color, but probably brewed with the same hops. It is full flavored beer similar to the popular Goldstar. Master's Rich Dark Beer, however, was very successful beer somewhere between the stout or porter style. Very dark in color and full in taste it was both malty sweet and full of coffee like bitterness from deeply roasted barley. The intense taste might not be for everyone, but even our waiter seemed fond of the beer; first encouraging us to have it instead of the others and then noting that we've finally received something really good when it eventually arrived.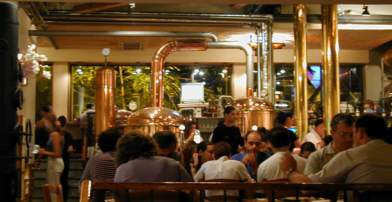 While the Vermin Brewing Research team might be primarily interested in beer, the best micro breweries offer something to soak up all that sampling as well. Tel-Aviv Brewhouse doesn't miss this chance and offers an excellent variety of food based on international cuisine. Several vegetarian dishes are included on the varied menu which is conveniently in both Hebrew and English. The eggplant with goat cheese comes highly recommended and many dishes are cooked with the brewery's own beer as part of the sauce.
It is refreshing to see this country so rich in history finally returning to its roots as part of the pre-history of beer. We can only hope that more micro-breweries will join the Tel-Aviv Brewhouse in serving excellent food in pleaseant surroundings. Until then, Le'chai'em!