Only several kilometers away from VB Headquarters was Brouwerij De Dool in Houthalen-Helchteren (in the Belgian province of Limburg). Although the currency was different, beer was an international language.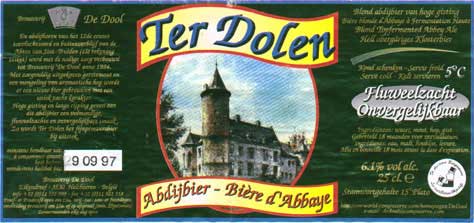 It was a bit difficult to contact anyone at the brewery to find out if tours were still available, but after a bit of stress and plenty of rushing about, we finally arrived in time. The brewery was contained in one of the large buildings that lined a large courtyard. The bar and restaurant were contained in the other buildings, and the courtyard itself was filled with tables and people sampling large glasses of the light colored beer.
The woman who gave the tour spoke very cleary and loudly in proper Dutch, which was a good thing because the group was extremely large and very impersonal. The tour started outside and we learned some history of the castle for which the brewery is known. We then moved inside to look at the brand new (installed in 1994) stainless steel, ultra modern, brewing equipment. It even had a fully closed, fully recycling, cleaning system.
After the tour, we got our free sample, although one's choice of beer was very limited because of the small size of the brewery. There was no one around to ask any more questions nor was there any printed information to gather, so we just sat under the large shady trees in the garden by the stream and enjoyed our drink... which seemed to be more of the brewery's intention anyway.