Labels from the rest of the world
in no particular order

Castle Beer - by Cobomi in Casablanca, Morocco
Castle Beer was a medium yellow color with an off-white head. It had a malty smell and tasted like a malty cereal mixed with some vegetative hops. Overall it was a mild beer with very little bitterness. There was no alcohol content listed.
Because Islam technically forbids the drinking of alcoholic beverages, it was a bit difficult to find a wide range of beers in Morocco. The Vermin Brewing Research Team was finally successful in one of the more expensive tourist hotel restaurants. The label is exclusively written in French, one of the two main languages spoken all over Morocco. Under the image of a large crown is the slogan "the Queen of Beers". The beer is brewed under international license of BTM.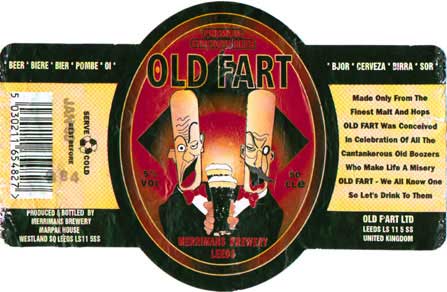 Old Fart - by Merrimans Brewery in Leeds, England
Old Fart is a medium reddish amber colored beer with a light beige head. Although it only has an alcohol content of 5.0%, it is known as a Premium Strength Beer. It has a nice malty taste with a fine mild bitterness.
But it is not the beer's taste that makes it so special. It's highly entertaining label reads: "Old Fart was conceived in celebration of all the cantankerous old boozers who make life a mistery. Old Fart - We all know one so let's drink to them." Leeds is located in the north of the country, in the county of West Yorkshire.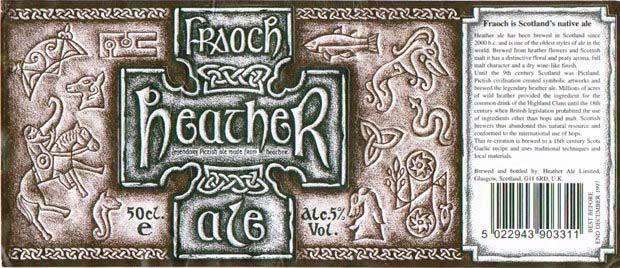 Fraoch Heather Ale - by Heather Ale Limited in Glasgow, Scotland
Fraoch is perhaps one of the most amazing beers the Verming Brewing team has ever sampled. With an alcohol content of 5.0% and a lovely orange color, the beer is otherwise almost indescribable. Both its taste and smell are simply wonderful, somewhat floral and yet spicy. It has a fine flavorful bitter aftertaste as well.
According to the back label, "Fraoch is Scotland's native ale. Heather ale has been brewed in Scotland since 2000 b.c. and is one of the oldest styles of ales in the world. Brewed from heather flowers and Scottish malt, it has a distinctive floral and peaty aroma, full malt character and a dry wine-like finish." "Millions of acres of wild heather provided the ingredient for the common drink of the Highland Clans until the 18th century when British legislation prohibited the use of ingredients other than hops and malt. Scottish brewers thus abandoned this natural resource and conformed to the international use of hops. This re-creation is brewed to a 16th century Scots Gaelic recipe and uses traditional techniques and local marterials."The label is also quite impressive, and the artwork is explained as well: "Until the 9th century Scotland was Pictland. Pictish civilisation created symbolic arworks and brewed the legendary heather ale." Unfortunately there was no more detailed information about the brewery itself.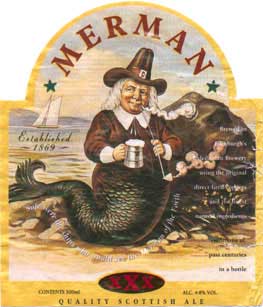 Merman XXX - by The Caledonian Brewing Co Ltd in Edinburgh, Scotland
Merman XXX was a lovely well-rounded beer with plenty of bitterness but plenty of good rich taste as well. This East India Pale Ale had an alcohol level of 4.8%, a beautiful dark copper red color and a beige head. The large amounts of hops used in making this style of beer were easy to notice in all aspects of the beer, thereby making it go very well with an evening meal. "Sure were the ships would would see the Merman of the Fourth" is the incription on the front label. Unfortunately the history of this story was not explained on the back label, however the history of this style of beer was: "Higher hop rates were used to perserve the beer on its long journey by ship to India, giving rise to this style of India Pale Ale".
The Caledonian Brewing Co Ltd was founded in 1869 and is located in the county of Lothian (one of the most southern parts of Scotland). This brewey has a wide variety of special beers and several great labels. One label in particular, their Golden Pale Organic Beer, has a small mouse on the neck label... always a favorite with Vermin Brewing.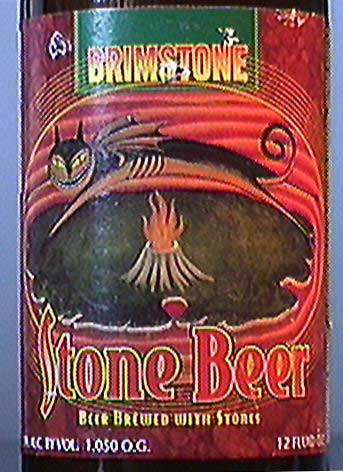 Stone Beer - by Brimstone Brewing Co. in Baltimore, Maryland, USA
This "Beer Brewed with Stones" was a dark yellow color with a creamy light head. The VB team's overall impression of this special type of beer was a very bitter, dry, leafy taste. It's mildly smokey taste went rather well with cheese however. It had an alcohol content of 5.0%. This style of beer can often be found in Germany. There, it is typically made by throwing rocks (which have been heated over some type of special wood, such as beechwood) directly into the beer itself. This imparts the smokey flavor to the beer.
This label depicts a cat with bat wings and a devilish grin leaping over a volcanic spout of fire, all on a subtle background of red glowing rocks.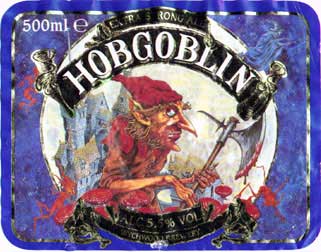 Hobgoblin - by Wynchwood Brewery Co. LTD in Witney, England
Hobgoblin is labeled as an "extra strong ale" in England, but only has 5.5% alcohol. This pretty amber colored beer was VERY tasty. Vermin Brewing tasters could best describe it as strangely fruity yet bitter with hints of a roasted flavor. Other attributes of the beer were a very creamy head, nice carbonation, and a lovely aftertaste.
Hobgoblin was bottled in a clear glass bottle; it was brewed by Wynchwood Brewery at the Eagle Maltings located in Witney (in the province of Oxford). The brewery claims to be "fiercely independent" and carries the logo of a witch on a broom.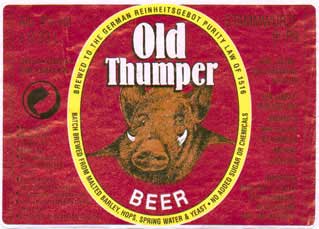 Old Thumper - by Newbegin Brewery in Auckland, New Zealand
Old Thumper had a very different taste, almost that of strong leafy hops. The light colored beer is brewed according to the German Beer Purity law and it was low in alcohol at only 4.0%.
The Newbegin Brewery is located on the North Island of New Zealand. The humorous picture of a contented warthog has encouraged the Vermin Brewing team to search for more beers by this brewery, alas with no luck.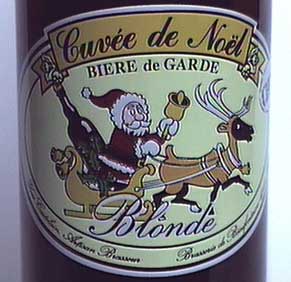 Cuvée de Noël - by Brasserie Castelain in Benifontaine, France
Cuvée de Noël is a blond style beer with 7.5% alcohol. It has a lovely smell, pretty light color, and nice creamy head. It is slightly more bitter than typical Belgian style blond beers.
The brewery, Brasserie Castelain, was founded in 1926 and is located in Benifontaine, France. Like many French beers, Cuvée de Noël also comes in a large sized, beautifully decorated bottle. Painted on the back of the bottle is a message from Yves Castelain, the brewer, describing how this beer is brewed in August and September for the festivals at the end of the year.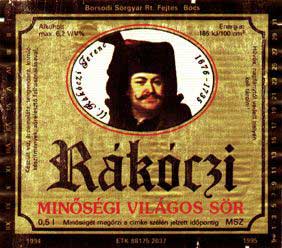 Rákóczi - by Borsodi Sörgyar Rt. Fejtés in Böcs, Hungary (Magyarország)
According to the label, this beer (or sör) is a Minöségi világos sör. According to the appearance and taste, it was very similar to a typical German 'helles' style beer. It was a nice yellow color with a white head and was quite drinkable, with a nice malty taste and mild bitterness. The alcohol is listed as: max. 6.2 V/V%. Also interesting to note was "Energia: 185 kJ/1000 cm 3".
The beer is clearly named after the man in the picture, Rákóczi Ferenc (1676 - 1735).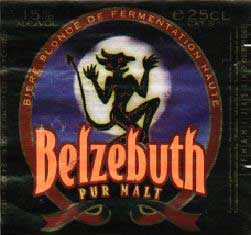 Belzebuth - by Brasserie Jeanne D'Arc in Ronchin, France
Belzebuth pur malt is listed as a "Biere blonde de fermentation haute" (a top-fermented blond beer). At first glance, this beer appears like any other well-made beer, with a bright medium orange color and a thin light beige head. However after just one sip, the VB team quickly realized they were dealing with a very powerful beer... a 15% alcohol powerful beer. The presence of all this alcohol was quite prominent. Not only did it provide plenty of strong taste and a slight burning sensation but it also completely filled the sinuses. Once the team got over their initial shock, however, the beer proved to be quite malty and good.
The brewery is located in Ronchin, a suburb of Lille, a large city in the French province of Artois (Nord), just over the Belgian border. Brasserie Jeanne D'Arc also makes Grain d' Ogre, another strong blond beer (8%).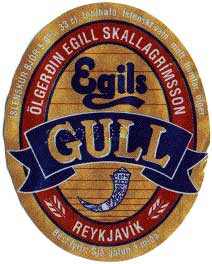 Egils Gull - by Ölgerdin Egill Skallagrímsson in Reykjavík, Iceland
The Icelandic word "Gull" means "golden", which accurately describes the color of this beer. Capped with a large white head, the 5.0% alcohol beer was quite refreshing. It had a good malty taste and a mild pils-like aftertaste.
Beer in Iceland proved to be very expensive relative to most other countries. For two bottles of beer (33 centiliters each), the VB Team paid 750 Icelandic Kroner which, at the time, translated roughly to just under US$14.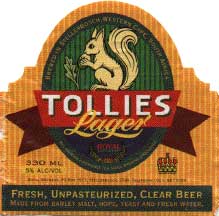 Tollies Lage- by Royal Brewers in Stellenbosch, Republic of South Africa
Tollies Lager was a 5.0% alcohol beer with a hazy dark yellow color and a white head. It was a very tasty, creamy, smooth, mild beer that went especially well with food.
The city of Stellenbosch (located in the Western Cape province) is the center of the country's famous wine producing area. It is the country's second oldest European city (established in 1679) and is also famous for its enormous old oak trees, hence the image of the squirrrel holding an acorn on the label.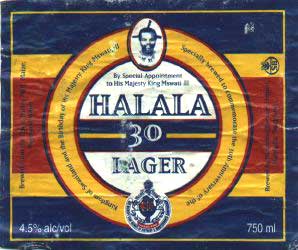 Halala 30 Lager - by Swaziland Brewers Limited in Matsapha, Swaziland
Given the circumstances (such as being bounced around in a car in the African heat for a couple days), the medium golden colored beer faired quite well. It had plenty of good taste and aftertaste with a certain dryness. Unfortunately the total lack of refrigeration caused it to be a bit overcarbonated and not particularily smooth.
The beer was "specially brewed to commemorate the 30th anniversary of the Kingdom of Swaziland and the birthday of His Majesty King Mswati III". Swaziland Brewers also makes Sibebe Special Lager, in honor of the world's second largest monolith. The VB Team got a quick view of the brewery located just outside of Manzini. The large white building was dwarfed by several tall silos.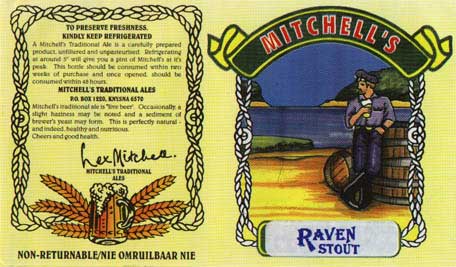 Raven Stout - by Mitchell's Brewery in Knysna, Republic of South Africa
Raven Stout was a highly impressive tasting beer with an alcohol content of 5%. It was very very dark brown in color with a lovely dark beige head. The beer's taste was very similar to its appearance - smooth, thick and creamy. It had a very strong roasted flavor with plenty of hop bitterness in the aftertaste. A delicious, well-balanced beer.
Mitchell's Knysna Brewery was established in 1983 in the charming little town of Knysna, situated on a foresty stretch of South Africa's picturesque coast. In 1998, it was joined with Mitchell's Waterfront Brewery (in Cape Town) and Mitchell's Brewery Gauteng (in Johannesburg) to form one company under the direction of Lex Mitchell. Mitchell's Breweries is now a wholly owned subsidary of Scottish and Newcastle plc.
Brewery tours were offered at the Knysna facility and the Vermin Brewing International Research Team was willing to risk foregoing a day of abseiling in order to try some of this locally famous beer. Not only were the tour, free beer samples, and members of the staff all absolutely exceptional, but the brewery's general manager Dave McRae spent several hours with the VB team, providing them with quality information, priceless sample labels and genuine hospitality.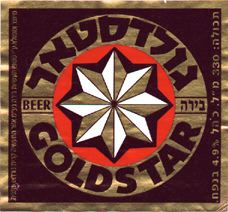 Goldstar beer, Israel
Purchased in the country itself, this label was made for the locals. Since there was no importer to translate the Hebrew text, the Vermin Brewing team found it a bit difficult to read. Undoubtably the brewery is mentioned somewhere on the label. The alcohol content, however, was decipherable and was listed at 4.9%. In the international language of taste, the beer was quite good. It was a full-tasting but not heavy, medium amber-colored lager.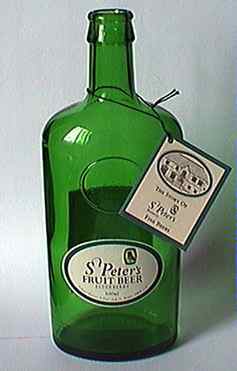 St. Peter's Fruit Beer Elderberry - by St. Peter's Brewery in Bungay, England
With an alcohol content of 4.7%, St. Peter's Fruit Beer Elderberry was a very bright, deep orange-colored beer with a very creamy beige head. Upon first sampling the beer, there were definite musty overtones. These disipated quickly, however, and gave way to a very full berry smell and taste. But unlike most sweet fruit beers, this beer was based on a very tasty malty background with plenty of hop in the finish. The pleasant carbonation and mild bitterness made it a very cleansing and refreshing beer.
St. Peter's Fruit Beer Elderberry was more than just a beer in a bottle... it was a complete package. Along with an informative back label, the unique green bottle also came with a small booklet entwined around its neck. Among the poetic words, one reads "St. Peter's Brewery is located in a medieval Hall at St. Peter South Elmham in a remote and beautiful corner of Suffolk. There our beers begin their lives deep below the brewery itself with water drawn from a pure source - as it has been for over 700 years." A bit of history about the bottle can also be found: "Our beautiful flask-shaped oval bottle is a faithful 500ml copy of one produced c.1770 for Thomas Gerrard of Gibbstown, just across the Delware River from Phildelphia." As for the brewery's logo, the booklet explains "The raven was the symbol of the Vikings who raided the area well into the Eleventh Century. ... The key is the symbol of St. Peter himself."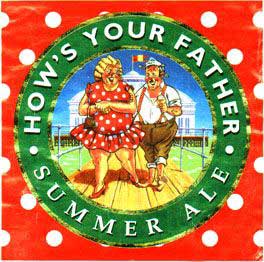 How's Your Father - by Vaux Breweries in Sunderland, England
How's Your Father is a very nice refreshing "Summer ale". The 4.6% alcohol beer is medium golden in color and has a nice white head. While still retaining some pleasant bitterness, the beer also contains plenty of lemon taste. But unlike a German "Radler" (a mixture of lager beer and lemon soda), this summer ale is not sweet... a very drinkable beer for those warmer days.
The cheery label depicts an old-fashioned couple in a day at the beach. Unfortunately that's an ice-cream cone in the man's hand and not a beer. The name 'Vaux' appears on the building in the back and presumably refers to the brewery, Vaux Breweries Limited. Located in Sunderland, a city in the northern county of Tyne and Wear, the brewery also makes several other delicious beers including Waggle Dance, a honey beer.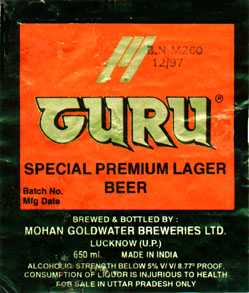 Guru - by Mohan Goldwater Breweries Ltd in Lucknow, India
The label states that Guru is a Special Premium Lager Beer. The dark amber-colored beer had relatively no head but that was probably not the beer's fault. The several bottles did seem suspiciously old; one was even undrinkable. The taste was mostly sweet with little other flavors. Alcoholic strength was listed as below 5%.
While there are far more beautiful Indian beer labels, this label ranks quite highly in the VB team's "rare label collection". According to the label, this beer is only sold in Uttar Pradesh (one of India's northernmost provinces that borders Nepal), thereby making it difficult to find even in India.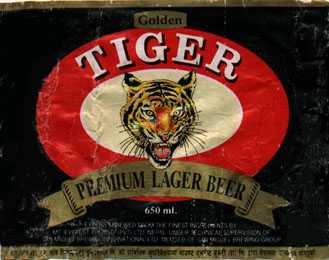 Golden Tiger - by Mt. Everest Brewery, Nepal
Listed as both a Premium Lager Beer and an X-tra Strong Beer, Golden Tiger gets its name from the many Bengal tigers that still roam free in the national parks of Nepal. The beer itself, however, was not as special as the label. It had a fine basic appearance with a medium yellow color and a white head. The taste was typical for a lager beer but was so mild that it was otherwise hard to describe. There was no alcohol information contained in the English part of the text; perhaps it is listed in the Nepalese script below which unfortunately the Vermin Brewing team was unable to decipher.
The beer was brewed under the technical supervision of San Miguel Brewing International Ltd., and the VB team actually drove past the San Miguel - Mt. Everest Brewery, located about 20 km outside of Chitwan National Park. Since the team was viewing the brewery from a local bus window, they were unable to actually visit the brightly painted yellow and pink building. Perhaps next time.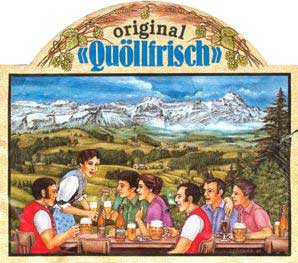 Original "Quöllfrisch" - by Brauerei K. Locher in Appenzell, Switzerland
Original "Quöllfrisch" is a German lager style beer. The hazy deep yellow beer had a creamy white head and an alcohol content of 4.8%. It was a very tasty, mild, drinkable beer with a slight tangy lemony taste... the perfect refreshment during the crisp alpine summer months.
The picture on the label depicts a traditional alpine outing, where family and friends gather in a mountain restaurant overlooking picturesque valleys and enjoy the local food, pastries and of course beer. The larger mugs being used are most likely 1/2 liter glasses. The brewery, Brauerei K. Locher AG, is located in the city of Appenzell in the mountainous Swiss province of Appenzell.



McFarland - by Murphy Breweries in Cork, Ireland
McFarland Red Beer is listed as a "special beer" on the label. The pretty reddish colored beer had an alcohol content of 5.6%. It had a strong, delicious butterscotch taste and was quite drinkable.
The two labels shown are simply different versions of the same beer, but technically Murphy Breweries didn't brew either of them. Both beers were purchased in Germany in different years and were brewed under licence by two different breweries (Birra Dreher and V. Maffucci). Italian and English are on the first label whereas Italian, English and Greek are on the second. The symbol of the three dogs appears prominently on both.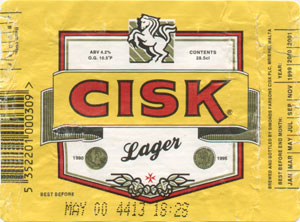 Cisk Lager - by Simonds Farsons Cisk in Birkirkara, Malta
Cisk Lager has a deep golden color with a fluffy white head. It was a very drinkable, refreshing beer with smooth carbonation, mild bitterness and a clean aftertaste. It went quite well with snacks of local goat cheese and dried chilies. The alcohol procent by volume is 4.2% and the O.G. is 10.5°P. The image of the famous Maltese Cross can be seen on label. The Maltese Cross stems all the way back to the Knights of the Order of St. John of Jerusalem in the early 1500's.
Cisk Lager is one of several beers brewed by Simonds Farsons Cisk PLC. The brewery is located in Mriehel Birkirkara (often refered to as B'Kara) on the tiny island of Malta and is situated directly across from the old Wignacourt aqueduct which used to bring water from the center of the island to the capital city. Local advertisements boast "Cisk Lager, Our Beer". The brewery makes several other beers as well, such as Hopleaf Pale Ale, Lacto Traditional Stout Beer, and Blue Lable Ale. While the VB Team was unable to get an actual tour of the brewing facilities, the very helpful and friendly staff did generously donate four beer glasses to Vermin Brewing.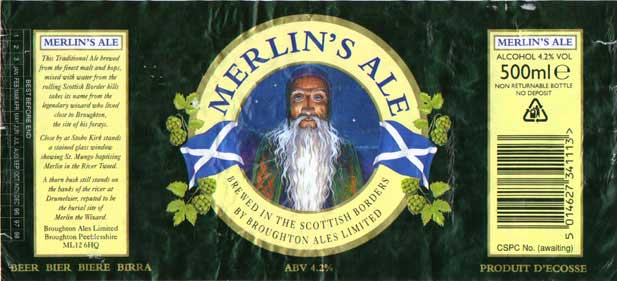 Merlin's Ale - by Broughton Ales Limited inBroughton, Scotland
Both the beer and the label of Merlin's Ale are most impressive. This full-flavored ale contains 4.2% alcohol and is characterized by a medium copper color and very creamy off-white head. It has a bittersweet malty smell and flavor, mingled with a lovely hop taste.
Broughton Ales Limited is located in one of the southern counties of Scotland. The brewery produces many other beers, such as The Ghillie and Greenmantle, which all have equally impressive lables and tastes. Each label features a famous person and contains a small bit of history surrounding that person. As if beautifully detailed artwork and lovely colors weren't enough, each label is wrapped around a stunning bottle embossed with hop vines.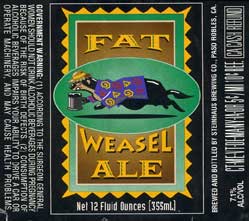 Fat Weasel Ale - by Steinhaus Brewing in Paso Robles, USA
Fat Weasel Ale had a hazy dark yellow-orange color with a nice beige head. It had a lovely hop smell and a nice lingering hop taste. It was slightly tongue numbing and tingling. The most surprising thing about this beer was its alcohol content, which was listed as 7.1%/vol.
The noticeably plump little weasel on the label is casually dressed with a colorful over-shirt and hat while bounding along with a hefty mug of beer in his paw. Steinhaus Brewing Co. located in California, USA, is listed as brewing this ale and also the porter whereas the Fat Weasel Lager is apparently brewed by Three Monkeys Brewing in Portland, Oregon, USA.

vbteam@verminbrewing.com
2007