Stone Beer
Brimstone Brewing (in Baltimore, Maryland)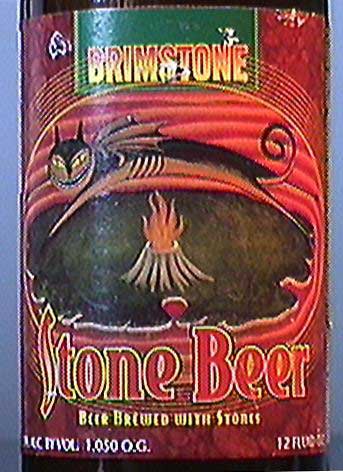 This "Beer Brewed with Stones" was a dark yellow color with a creamy light head. The VB team's overall impression of this special type of beer was a very bitter, dry, leafy taste. It's mildly smokey taste went rather well with cheese however. It had an alcohol content of 5.0%. This style of beer can often be found in Germany. There, it is typically made by throwing rocks (which have been heated over some type of special wood, such as beechwood) directly into the beer itself. This imparts the smokey flavor to the beer.
This label depicts a cat with bat wings and a devilish grin leaping over a volcanic spout of fire, all on a subtle background of red glowing rocks.
---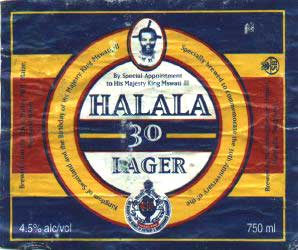 Fat Weasel Ale
Steinhaus Brewing (in Paso Robles, California)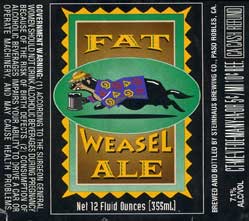 Fat Weasel Ale had a hazy dark yellow-orange color with a nice beige head. It had a lovely hop smell and a nice lingering hop taste. It was slightly tongue numbing and tingling. The most surprising thing about this beer was its alcohol content, which was listed as 7.1%/vol.
The noticeably plump little weasel on the label is casually dressed with a colorful over-shirt and hat while bounding along with a hefty mug of beer in his paw. Steinhaus Brewing Co. located in California,, is listed as brewing this ale and also the porter whereas the Fat Weasel Lager is apparently brewed by Three Monkeys Brewing in Portland, Oregon.